You can never have too much depth.
That is probably exactly what Miami Heat coach Erik Spoelstra is thinking right now as the season wears on. With just 13 games remaining, the Heat have found themselves shorthanded as of late. In Monday's 113-91 victory over the Houston Rockets, Miami was missing Jimmy Butler, Bam Adebayo, Tyler Herro and Victor Oladipo. That wasn't a problem though, thanks to big performances from Dewayne Dedmon, Kendrick Nunn, Duncan Robinson, Goran Dragic and Andre Iguodala.
It is Dedmon, who was signed on April 8th, that has shown the potential value of a late-season free-agent signing. His size, rebounding, and defense have been a welcome addition to the Heat's inconsistent second unit. That isn't to say that Miami wouldn't welcome more size if they found an available big that can fit their system. If they don't go after size, Miami could potentially look to beef up their ball handling.
Here are three potential directions (and free agents) that the Miami Heat could decide to go with, in a final attempt to solidify their roster:
Stretch Big, Cool Name: Moritz Wagner
If there is one thing Moe Wagner has shown since coming out of Michigan in 2018, it is that he isn't afraid to shoot the three. While that willingness has only translated into a career three-point percentage of 30.2 (66/205), the Miami Heat have shown an ability to give big men good looks from deep with their current offensive game plans. Whether or not Wagner's shooting would benefit from those looks is impossible to guarantee, but it is never a bad idea to have an extra shooter around. That was exactly what Miami hoped they were getting when they acquired Nemanja Bjelica from the Sacramento Kings in March. However, Bjelica has looked out of shape and out of rhythm in much of his short stint with the team, and it wouldn't be foolish to think that the Heat might be considering adding another capable shooting big man.
While Wagner is a bit underwhelming as a rebounder at times, that is possible to hide in certain personnel sets. Butler, Iguodala, and Dragic are all plus-rebounders for their size and could help alleviate some of Wagner's board struggles if they shared the court. The Heat would really just be expecting him to be a capable screen setter who can knock down the open jumper when the opportunity arises. Wagner showcased a capable offensive game in college, but struggled in a recent 9-game stint with the Boston Celtics. Could the Heat system be what it takes to resurrect his offensive comfort?
Additional Ball Handler, Fan Favorite: Isaiah Thomas
Perhaps the most-discussed current free agent, Isaiah Thomas, has played just 55 games over the past three seasons. After signing an initial 10-day contract with the New Orleans Pelicans in early April, the team decided not to re-sign him. While Thomas did reach double-digit points in two of the three games that he saw action in for New Orleans, he shot just 33% from the field and 25% from deep.
Thomas is a much more known commodity than Wagner. That is obvious. You know what you're getting with Thomas at this point. He is a volume shooter and a capable ball-handler and facilitator. Defensively, he is a liability more often than not. So if the Heat were serious about signing him, you'd expect the Heat to do a bit of lineup magic to hide Thomas as much as possible on the defensive end.
If the Heat do bring in "LT", they are also getting a fierce competitor and an extremely-likable personality. Thomas' on-court value may have taken a hit since his peak 2016-17 season, but he remains a fan favorite everywhere he goes. It is difficult to root against him, and it could make for something magical if the Heat were to give Thomas a chance at a playoff run and potential championship this season.
At the very least, as an 87% career free-throw shooter, Thomas could be valuable in intentional foul situations. Also, he would probably look pretty smooth in the 'Vice' jersey. Basically, IT represents a low-risk, high-reward move that Miami should truly consider.
Pure, Absolute Chaos: Lance Stephenson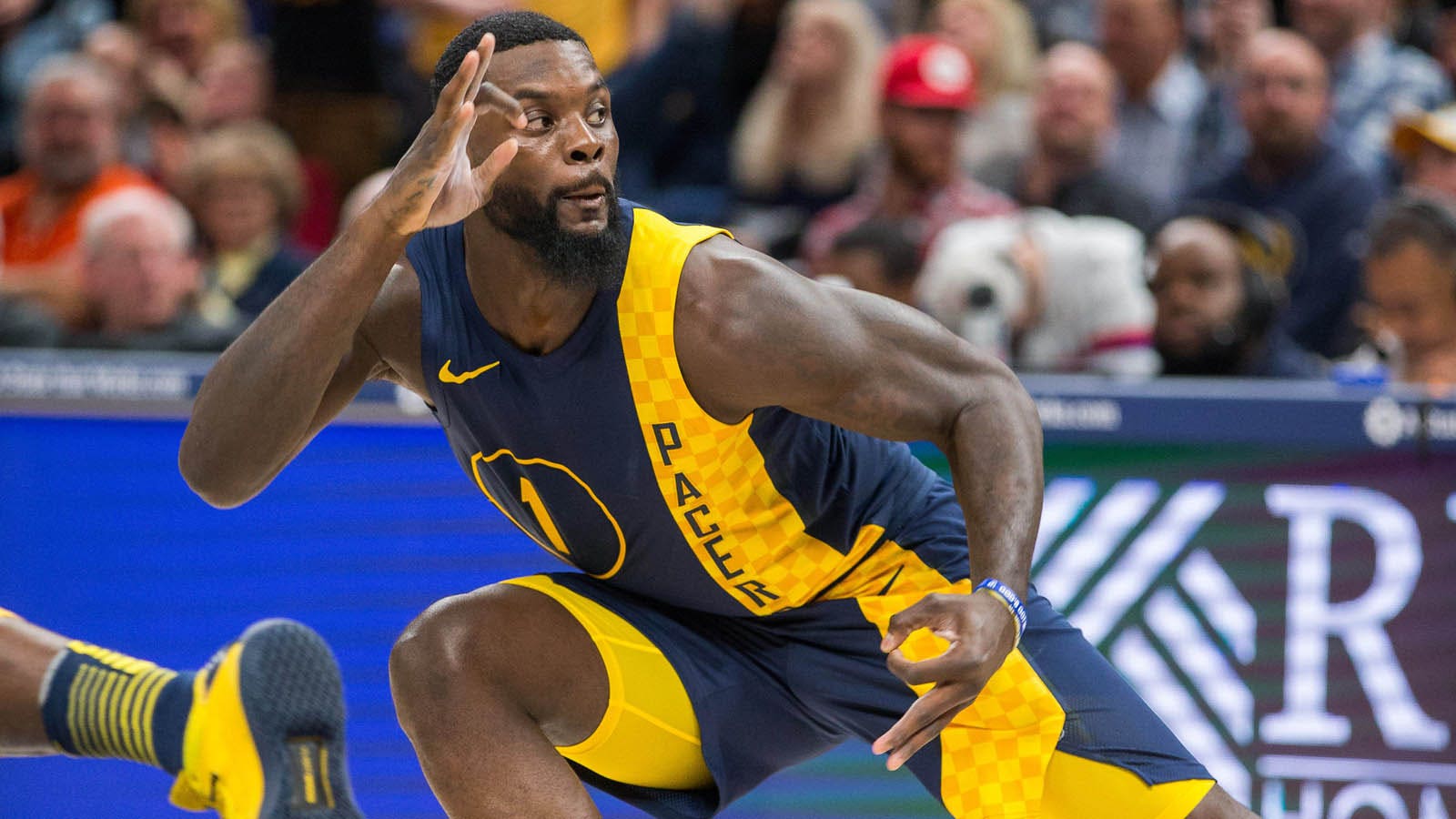 A few weeks back it was reported that the 6'6″ wing was working towards an NBA comeback. Stephenson most recently played in China, but is well-known to Heat fans from his time with the Indiana Pacers as a constant thorn in Miami's side, and a slightly-less constant wind in Lebron's ear.
It is unclear what Stephenson can still bring to a team. He averaged 26.7 points and 7.4 rebounds for the Liaoning Flying Leopards of the CBA this past season. He also likely has a chip on his shoulder much like Isaiah Thomas. Perhaps, if the Heat were looking for a secret weapon on LeBron in a possible Finals rematch, Stephenson could be an option.
This is the most unlikely free agent option. But imagine the mixed feelings Heat fans would have to deal with while watching Lance guard LeBron? But with Lance in a Heat uniform and LeBron in a Lakers'.
For the meme potential though, we will keep an open mind about this pipe dream of a possibility.