Tyler Herro must have heard the recent reports implying that his celebrity lifestyle was affecting his on-court play.
Herro scored 22 points off the bench — including 14 in the 4th quarter — as the Miami Heat ran away from the San Antonio Spurs on Wednesday night, 107-87. After averaging just six points on 23.3% shooting over his past three games, Herro was a much-needed spark-plug off the bench against San Antonio. He knocked down 5-of-6 three pointers (8-of-13 FG) while adding 6 rebounds and 4 assists in 25 minutes.
Bam Adebayo led all scorers with 23 points and 8 rebounds, while Jimmy Butler returned from his two-game absence with an 18 point, 11 assist double-double to lead Miami to their third straight victory and put them at 31-28 for the season. The win gives the Heat a bit more breathing room in the standings, as they find themselves with a two-game cushion over the 8th-place Charlotte Hornets.
Slow Start, Fast Finish
After trailing by two at halftime, the Heat outscored the Spurs 56-34 in the second half. Herro, by himself, almost single-handedly outscored San Antonio in the 4th quarter (15-14), as he accounted for five straight Miami field goals beginning at the 6:39 mark of the fourth quarter to put the game out of reach.
On a night where the Spurs struggled to get much rhythm in their offense, much of the credit should go to the Heat's clean play on both sides of the ball. Miami had just seven turnovers on the night, and didn't allow San Antonio to score any easy baskets all night. In fact, San Antonio had just four points off turnovers and four fast break points all game, while Miami also won the battles on the boards and in the paint.
DeMar DeRozan led the Spurs with 15 points, while Derrick White (13), and DeJounte Murray (11) were the only other Spurs' in double figures. Herro's former Kentucky teammate, Keldon Johnson, added 9 points and 6 rebounds for San Antonio.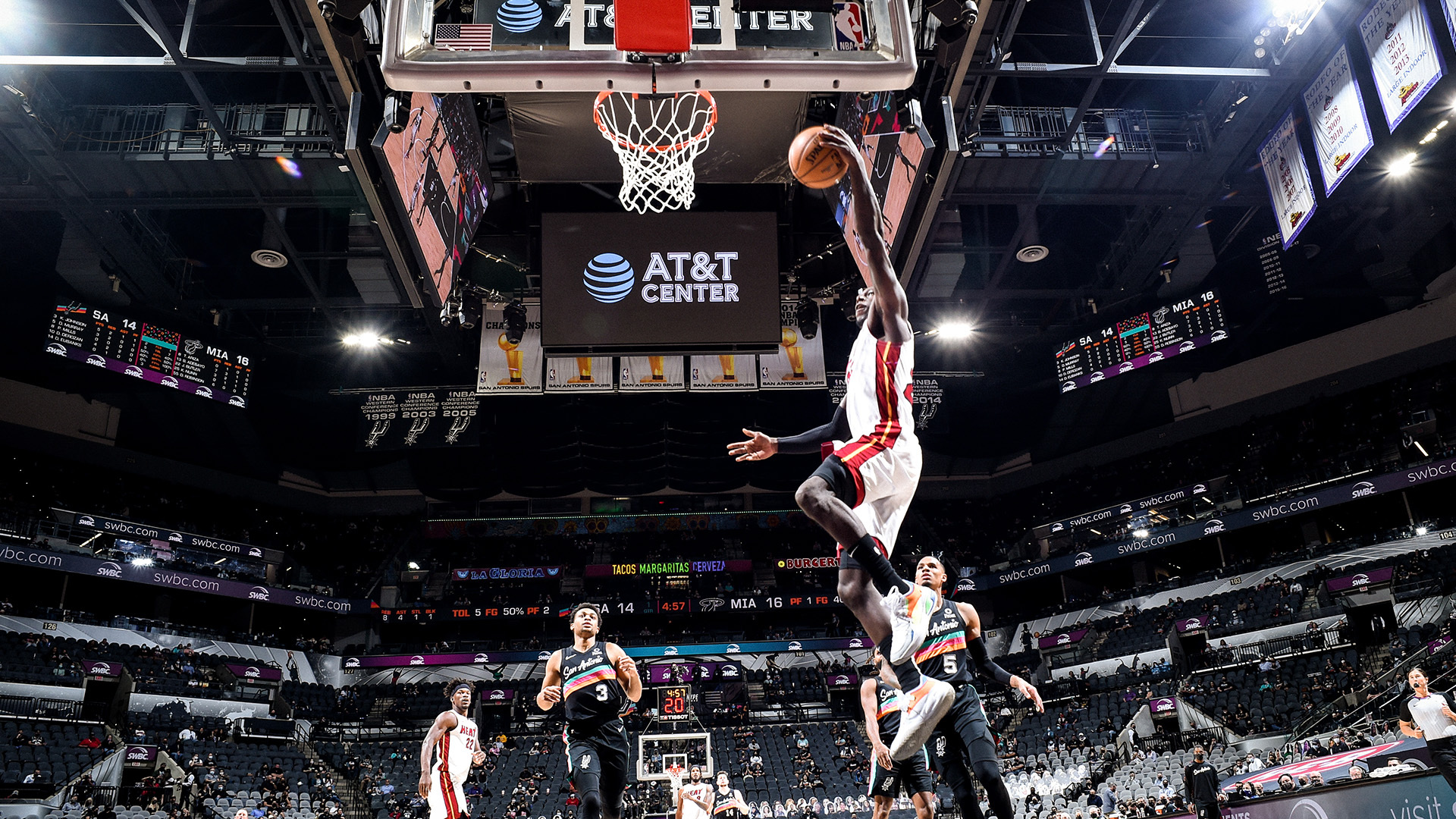 Big Minutes From a New Signing
While Herro's big 4th quarter stole much of the attention on the night, there was a lot of positives worth nothing from the entire Miami team. The recently-signed Dewayne Dedmon played exceptionally off the bench against his former team. In Dedmon's 4th game as a Heat player, he racked up an impressive +17 in 14 minutes on the court. His statline (6 points and 3 rebounds) might not stand out, but his defensive positioning and screen setting was integral in keeping energy high with the second unit. If Dedmon is able to continue to provide quality minutes off the bench, the Heat's second unit is in great shape.
Run It Back Next Week?
These two teams don't get much of a break from each other. The Heat and Spurs will match up again next Wednesday, April 28, in Miami, as the Heat look to sweep the season series. If this game is any indication, you would think Spurs coach Gregg Popovich will try to alter a few things on both sides of the ball to get a bit more fluidity against Miami's suffocating defense and offensive movement.
Final Notes
Heat guard Victor Oladipo missed his 7th-straight game as he continues to deal with right knee soreness. Andre Iguodala was also out with a hip injury.
Miami's next game is Friday, as the Heat travel to Atlanta to visit the Atlanta Hawks — who may be without Trae Young after he suffered an apparent ankle injury in his last game.
The Spurs failed to score 100 points for the first time in their last seven games — a testament to the tenacity of Miami's defense on the evening.