The Miami Heat looked to bounce back at home on Saturday night against Nikola Vucevic and the Chicago Bulls. The Heat began a three-game homestand against the Bulls and wanted to protect home court at all costs. The Heat absolutely pounced on the Bulls for the first three quarters, but once crunch time came around, a different story can be told. The Bulls went on an 18-5 run at the start of the quarter, which prompted coach Spoelstra to put Jimmy Butler back into the ball game. Once this happened, it was all she wrote. Butler locked in and simply took matters into his own hands and got the job done. 
Crunch Time
Jimmy Butler played a big role in the fourth quarter, finishing the game with 20 points on 5-for-11 shooting. Phenom center Bam Adebayo did what he does best, lock down the paint and get buckets. Adebayo had 20 points and was the defensive anchor that the Heat needed down the stretch. Also, Kendrick Nunn added 22 of his own points in this one, and looked like a seasoned veteran on the other side of the ball.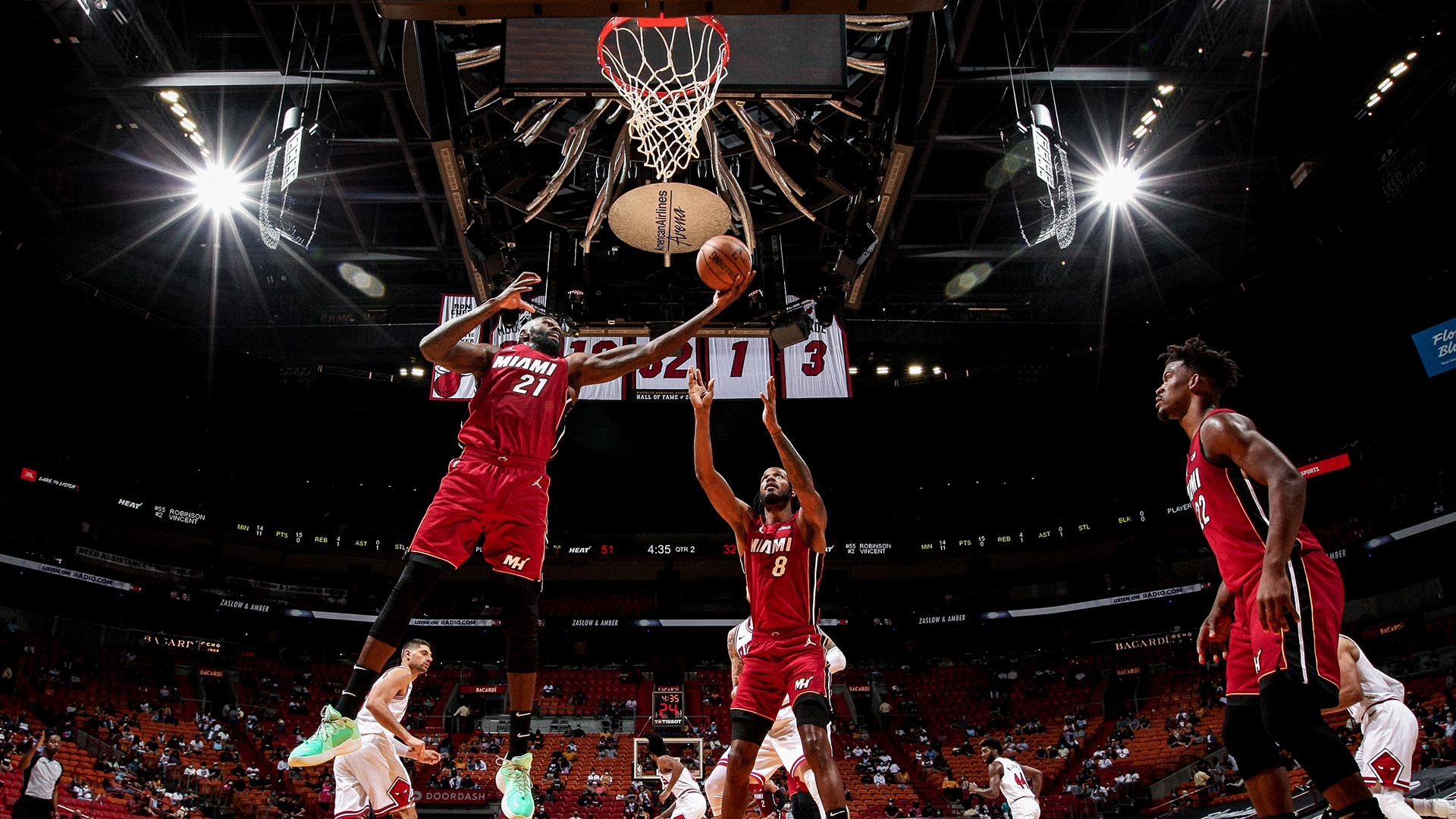 Dialed In
Coming off a lackluster performance against the Atlanta Hawks, Duncan Robinson came out of the gate scorching hot – hitting four threes in the first five minutes of the ball game, kickstarting an early 17-6 lead in the first quarter. Robinson led the Heat in scoring, dropping 23 points on 8-for-17 shooting. The Bulls went big and started both Nikola Vucevic and Daniel Theis. This allowed Robinson to create his shot around the perimeter which led to him catching fire early on in this contest. 
Stepping Up
With the absence of both Goran Dragic and Tyler Herro, the Heat looked to their starters to fill the void. The bench didn't add much help in this contest with the exception of Max Strus. Strus made quick work of his brief 11 minutes. Scoring five points off the bench and hustling harder than anyone on the defensive end, Strus made a name for himself in Saturday's game, and helped the Heat secure the much-needed win.

Looking Forward
The Miami Heat will play these same Chicago Bulls on Monday night. Tipoff is scheduled for 8:00 PM EST.