Although it's only April, there's always a little room to talk some college football. For the UCF Knights, that proves to be the case. The Knights, despite finishing with a 6-4 record last year, have produced a great offseason under new head coach Gus Malzahn. Thanks to some strong relationships with former players and assistant coaches alike, Malzahn has managed to turn UCF into the Auburn of the Sunshine State.
All of a sudden, it seems like the Knights have what it takes to make an AAC Conference Championship run. Sure, the depth of the conference this year will be strong, but Gus Malzahn can definitely make it happen with the pieces around him. After all, he's taken a team to the National Championship before, something very few people can say.
Not to mention, the UCF offense in the past has shown the capability of scoring points, and we mean a LOT of points. They possess the capabilities in order to act as a dominant offensive team, and we think that will carry over into 2021.
UCF's Overall Schedule
Competition wise, UCF should receive a few challenging tests throughout their 2021 campaign. The Knights, as usual, will have to face a few heated and strong rivals in their conference. Their out-of-conference schedule isn't a given either, as matchups such as Boise State and Louisville will prove to act as important early tests. With so much intrigue around this program, all the speculation is on how ready they'll be for this barrage of opponents.
Before we waste any more time, here's our UCF schedule breakdown and predictions.
Matchup #1: Boise State Broncos
In what should be one of the most intriguing group of five games in recent CFB history, the Knights will host the Boise State Broncos in the inaugural week of the 2021 season. Sure, Boise State is not the same program that they used to be, but they're still destined to give UCF a challenge. The Broncos qualify as the cream of the crop in the Mountain West, and they'll be very ready for Week 1.
With that being said, the Knights possess the better overall talent and coaching. The Broncos still have some questions surrounding their football team, whereas the Gus Bus is ready to make a CFP run. This will be close early on, but UCF eventually pulls away in the closing stages of the game. With all due respect to the Broncos, their dynasty isn't the same as it used to be.
Winner: UCF
Matchup #2: Bethune-Cookman Wildcats
It won't get any easier than this for the Knights. An FCS school, Bethune-Cookman will serve as no more than a cupcake on UCF's challenging schedule. No disrespect to the Wildcats, but we'd be surprised if this one is close by the end of the first quarter.
Winner: UCF
Matchup #3: @Louisville Cardinals
Surprisingly, this will qualify as the only power five matchup on the Knights schedule. Don't be fooled though, because the Louisville Cardinals are by no means a strong football school. Sitting at a record of 4-7 last year, the Cardinals overwhelmingly disappointed the college football world. Now, this season will be decisive for the future of their football program.
We think Louisville has what it takes to hang with the Knights, but not enough to come out with a win. UCF sneaks out of this one with a close win.
Winner: UCF
Matchup #4: @ Navy Midshipmen
And so in-conference play begins.
After a bye week following out-of-conference play, UCF will face the Navy Midshipmen in their first in-conference game. Navy, despite earning a top 25 ranking in 2019, seemingly struck back down to reality in their 2020 campaign. The prestigious military academy finished with an unimpressive record of 3-7, losing to their heated rival Army in the process.
With things looking down for the Midshipmen, we're confident that UCF has what it takes to come out with the victory in this one. Even though it's on the road, this one might not qualify as very competitive.
Winner: UCF
Matchup#5: East Carolina Pirates
In terms of in-conference play, this should be considered one of the biggest locks for the Knights. East Carolina has found its program towards the bottom of the AAC for years now, and we don't expect that to change anytime soon.
Winner: UCF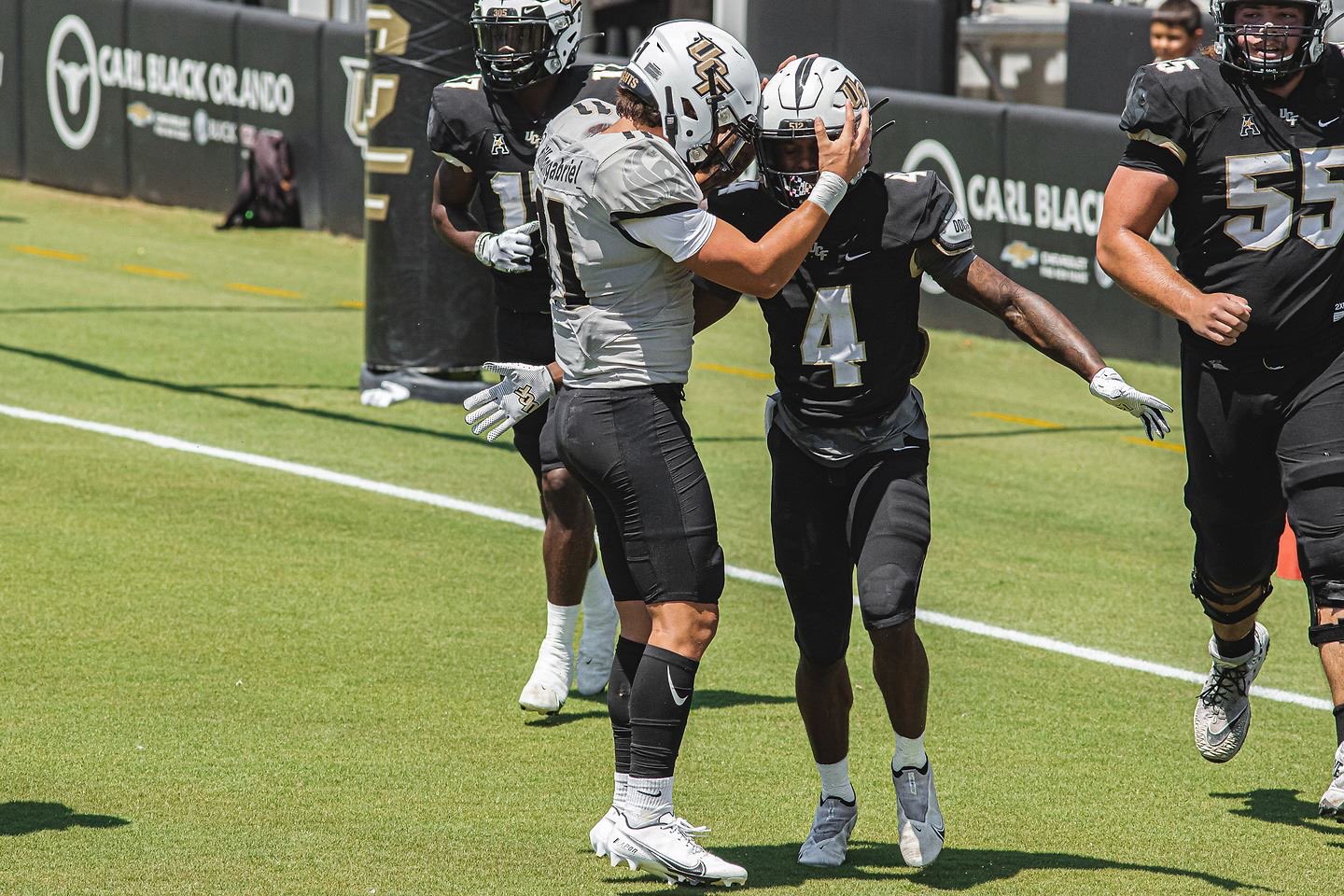 Matchup #6: @ Cincinnati Bearcats
To be the best, you'll have to beat the best. No matter how hard certain programs may try, the only way to truly earn relevance in CFB is to compete with the strongest opponents. For UCF, the Cincinnati Bearcats stand out as one of those matchups.
While not quite on the playoff level yet, Cincinnati has earned respect and relevance at the national level thanks to head coach Luke Fickell. The former Ohio State assistant coach has been on a tear at Cincinnati, earning the Bearcats program three straight 9+ win seasons. For UCF, this rival program has stood out as a thorn in the back during the last few seasons. In both 2019 and 2020, the Knights lost to the Bearcats by the difference of a field goal. Now, Cincinnati looks to continue that streak against what should be an improved UCF team.
So who wins this time around? We think it will come down to the final moments either way, but our overall consensus is that Cincinnati has a slight edge. It's close for sure, but the Bearcats home field advantage proves to act as too much for Gus Malzahn and company.
Winner: Cincinnati
Matchup #7: Memphis Tigers
It's safe to say that the Tigers weren't the same in 2020 after former HC Mike Norvell left the program. However, that doesn't mean that this game won't be competitive. In fact, the Tigers still managed to defeat UCF last year, edging out the Knights by a score of 50-49.
With that being said, UCF has improved a great deal since their last matchup. This one's close, but the Knights emerge victorious towards the end of the contest.
Winner: UCF
Matchup #8: @ Temple Owls
At 1-6, the Owls were easily one of the worst teams in the AAC last year. We'll admit that playing in Philadelphia should provide a bit of a challenge, but the Knights still emerge victorious.
Winner: UCF
Matchup #9: Tulane Green Wave
The Green Wave in recent history have always qualified as an average to below average AAC team, and we don't expect that to change anytime soon. UCF gets a fairly easy win in this one.
Winner: UCF
Matchup #10: @ SMU Broncos
Ever since SMU received the football death penalty in 1987, its program has been in a slow struggle to return to relevancy in CFB. However, that goal has become more of a reality in the last few years, as the Mustangs have shown signs of competitiveness within the AAC. In both 2019 and 2020, the program finished with only three losses and remained on par with the top dogs in the conference. Obviously, that means UCF should be in for a dogfight in this one, especially considering that the game is on the road.
With that being said, we still have the Knights winning due to the fact that they should be well rested prior to this game. Temple and Tulane both pose very little threats to the Knights, meaning the team shouldn't have to overplay its starters. Expect it to be close, but UCF still emerges victorious.
Winner: UCF
Matchup #11: UConn Huskies
Despite leaving the AAC, UConn will still play UCF in the 2021 regular season. We take this as a blessing. UConn is consistently one of the worst teams in all of college football. Don't expect that to change anytime soon. UConn has established itself as a basketball school, not a football school.
Winner: UCF
Matchup #12: USF Bulls
There's nothing quite like rivalry week in college football. It's the one week of the season where the stakes are huge for every team. For UCF and USF, that statement holds true.
These two teams could not be further apart, and we mean both emotionally and skill-wise (also location-wise). While UCF sits near the top of the AAC every year, USF has consistently done the opposite for the last few years. The Bulls produced arguably their worst season in program history last year, going 1-8 under new head coach Jeff Scott.
Just like UConn, things certainly aren't looking up for this Bulls program. UCF gets the job done easily in this one.
Winner: UCF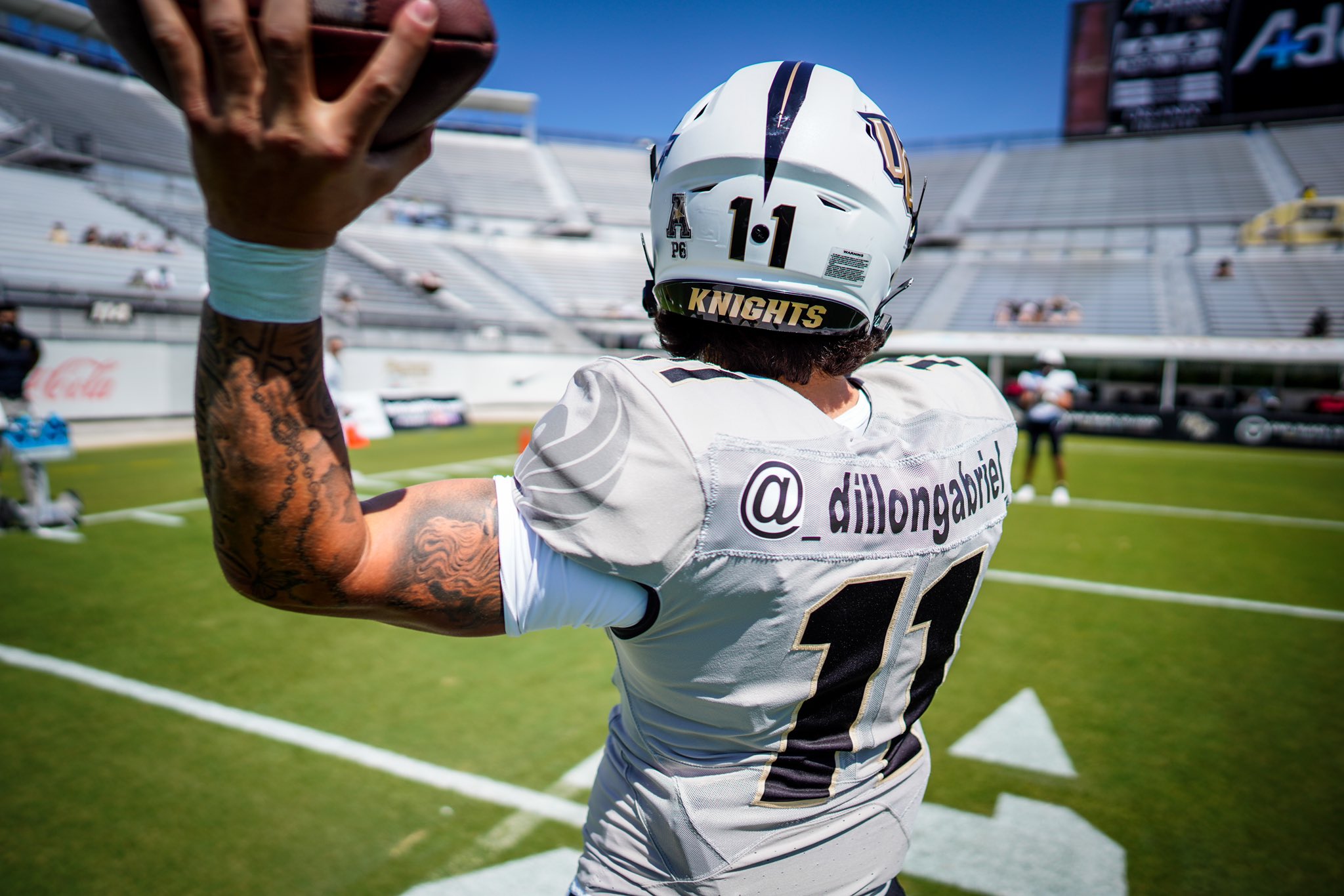 Concluding Thoughts
Overall, we have the Knights bouncing back from an average 2020 campaign and going 11-1 in 2021. This would pretty much ensure the school of a spot in the conference championship game and the possibility of competing for a New Year's Six bowl bid.
It may qualify as a lot to ask for under a new head coach, but UCF has high expectations year in and year out. Plus, considering Malzahn took down Nick Saban and the Alabama Crimson Tide on three separate occasions, this isn't totally unrealistic. For now though, it's all about preparing the team for what lies ahead.