Despite this NBA season having all the makings for a lost season, the Orlando Magic are still able to look at a few positives, with none being bigger than the untapped potential of Mo Bamba. Yes, the former sixth overall pick from the 2018 NBA Draft hasn't been great for Orlando, but many teams are still interested in Bamba. Bamba's stats have been disappointing, at 5.2 PPG and 3.2 RPG, but Bamba's per-36 stats are off the charts! Per 36 minutes, Bamba is averaging 25.7 PPG, 14.9 RPG, and 2.7 BPG. If Bamba was playing 36+ minutes for the Magic, the Magic would be so much better. The Magic have neglected this, and haven't given him more minutes. If Orlando isn't going to do anything, why not look for a trade to maximize their return from Bamba? Here are three trade scenarios to do just that for the Magic:
1. Magic Cash Bamba and Fournier in for Four-Time All-Star Demar Derozan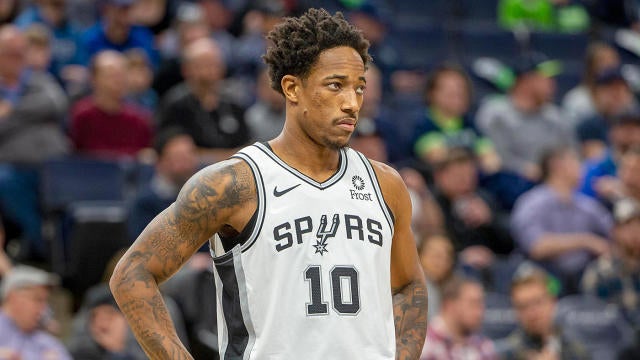 Magic Receive: Demar DeRozan
Spurs Receive: Mo Bamba, Evan Fournier, Magic's 2022 1st Round Pick
Analysis: It may seem like a lot to give up, but DeRozan has been quietly putting together his best season with the Spurs since 2018. In 23 games, DeRozan is averaging 20.2 PPG, 5.1 RPG, and 6.7 APG, while shooting 48.6% from the field and 33.3% from downtown. For the Magic, the fit is perfect, since DeRozan gives the Magic someone who can facilitate the offense and create offense for himself when Nikola Vucevic goes to the bench. Together, Vucevic and Derozan should keep the Magic in the race for the eighth seed in the East. As for the Spurs, they take a low risk-high reward situation with getting Bamba, as Gregg Popovich and LaMarcus Aldrige can help jumpstart Bamba's development. Fournier also replaces DeRozan as a valuable veteran in the backcourt, and makes the money work, while the 2022 1st Round Pick from the Magic seals the deal.
2. Magic Get Otto Porter Jr. While Sending Bamba and Fournier to Chicago
Magic Receive: Otto Porter Jr.
Bulls Receive: Mo Bamba, Evan Fournier
Analysis: Trading for Porter Jr. may not seem as exciting as you think, but like DeRozan, Porter Jr. is also having a sneaky good season. In his 16 games this season, Porter Jr. is averaging 11.6 PPG, 6.3 RPG, and 2.0 APG. Porter Jr. is also shooting 44.4% from the field and 40.0% from three-point range. Porter Jr. can be very flexible on offense since he can create offense for himself and can still contribute on the offensive end without the ball. In Orlando, Porter Jr. is a clear upgrade over Fournier, and will immediately help the Magic's struggles with scoring. Along with receiving Fournier, who is on an expiring deal, the Bulls also get Bamba, who should thrive under Head Coach Billy Donovan. Adding Bamba into Chicago's loaded frontcourt that already includes Lauri Markkanen, Patrick Williams, and Zach Lavine should make the Bulls playoff contenders once again.
3. Magic and Kings Exchange Former First-Round Picks from the 2018 NBA Draft
Magic Receive: Marvin Bagley III
Kings Receive: Mo Bamba, James Ennis III
Analysis: Trading one reclamation project for another may seem counterintuitive, but this makes sense for both the Magic and the Kings. Starting with the Magic, they get Bagley, the former number two overall pick in the NBA Draft. Through 24 games this season, Bagley is averaging 12.5 PPG, 7.4 RPG, and 0.5 BPG while shooting 47.3% from the field and 37.3% from downtown. So far, Bagley hasn't sustained a major injury, which has been a big reason why Sacramento has given up on Bagley. There isn't a guarantee that Bagley stays healthy throughout the rest of the season, so the Kings should look to trade him now while his trade value is high. In return for Bagley, the Kings will take a chance on Bamba and see if they can get lucky with his development. If not, this gives Richaun Holmes a chance to fill in Sacramento's vacancy at center.